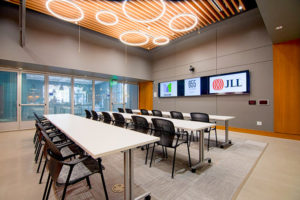 Running a high-performing and competitive San Diego business involves meetings and conferences with customers, clients, and business partners. One opportunity to stand out from others is by choosing the perfect corporate event space in which to conduct business. The ambiance and amenities of the location sets the tone and energy of the meeting, and can directly contribute to the outcome and success of the event. Therefore, when planning an offsite meeting or conference, it is beneficial to select the finest meeting rooms in San Diego as opposed to an ordinary boardroom or conference facility.
Here, we bring you some points to keep in mind when deciding upon the perfect corporate event space:
Accessibility
First, you will want to ensure that the corporate event space in San Diego you reserve is easily accessible. Having a centralized downtown location makes it very convenient for participants who may be coming from nearby, or from different areas of the city. Proximity to the airport and popular hotels also provides convenience for out of town visitors.
Suitability
It helps to choose an offsite venue that is reflective of your company standards. For example, if you book a busy shared meeting space, you will be surrounded by other meetings and conferences that can prove distracting. On the other hand, if you reserve a venue that is exclusive to you, the environment can be completely your own. Finding a conference room that is visually pleasing, with a modern aesthetic, will help ensure a high-impact presentation.
Costs
The next thing to look for is a place that works well within budget. Many conference spaces may be larger than you actually need, and priced accordingly. You may also find locations with full day or multi-day options only. It is best to find a corporate event venue with flexible packages. For example, if the the location has multiple boardrooms that can be merged or booked individually, you will have a lot of flexibility.
Facilities
Last but not least, try to look for an event venue with facilities that will lead to your perfect offsite event. If the location has cutting-edge conference technology, this will allow you to engage long-distance participants, in addition to those onsite. You may want to compare amenities such as screen sharing, high-speed internet, easy wifi access, and other technology considerations. It is also helpful to have lunch and catering options, nearby as well as coffee on premises.
If you are planning your next business meeting during upcoming weeks, we welcome you to use the above tips to find the best venue for your event. We also look forward to answering any questions you may have about our venue, and finding your perfect corporate event space.