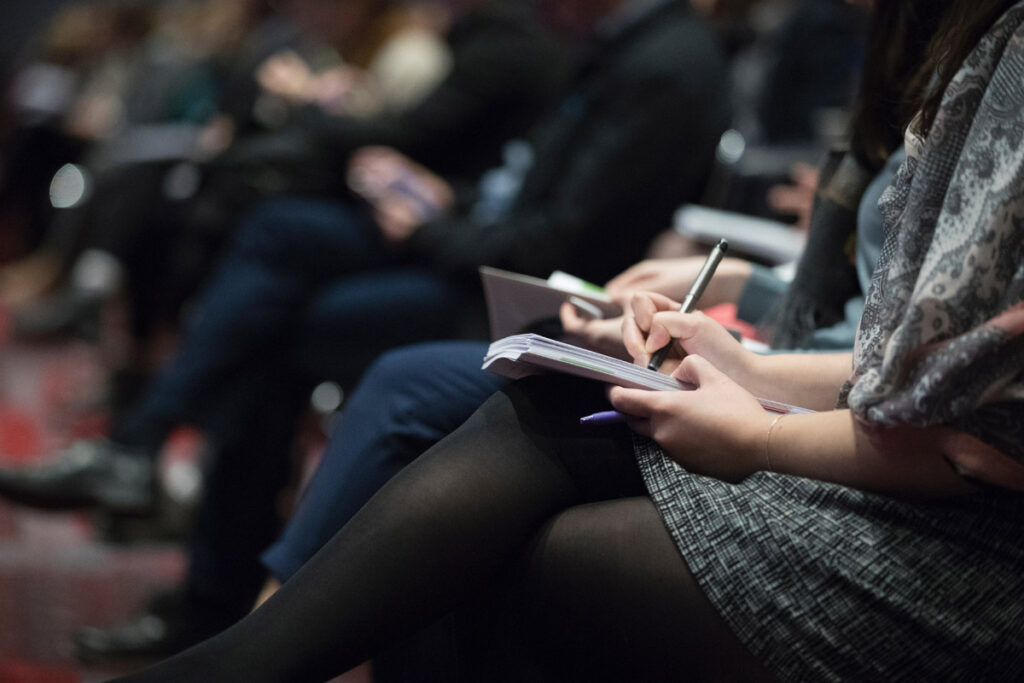 A conference meeting is a pivotal component of a strong business strategy. It is a way to bring all the key players together into one room. A in-person meeting ensures that everyone is physically present and accountable. It requires engagement and participation. Also, it commits all attendees to a specific timeline and agenda. For example, meetings have a condensed timeframe, and a list of priority items to accomplish. These are factors that are not always achievable during the typical work day. With a proper expectations set, your meeting participants will have incentive to make progress, and to follow through on the decisions made during the time together.
So how do you ensure that your next offsite meeting is a success? Below, we have complied a list of 5 new ideas for your next conference meting. Even if your meetings are already tightly run and efficient, you may still find something of value here!
1) Start The Conference Meeting With An Inspirational Quote
Set the tone of your business meeting by leading off with a quote or inspirational saying. This quote should be directly tied to the meeting at hand. For example, if you have gathered to discuss customer loyalty, make sure that the quote touches on this subject. Otherwise, a saying that pertains to team organization, for example, would not be as relevant. This quote can be from the company founder, a known business leader, or a public figure. There are many online resources for quotes, such as BrainyQuote
Even better, ask one of your newer or less vocal team members to provide the inspirational saying. This will give them the opportunity to participate early on in the meeting. It will also give them visibility and recognition. This may make them more likely to contribute throughout the conference meeting, if they know they are being listened to.
2) Make a List Of Banned Terms
To encourage a mutually respectful environment, make a list of words that are banned from your team meeting. This could include terms such as "wrong," "can't," or "impossible," to name a few. Try to push your participants beyond the "we've always done it that way" mentality. To ensure that all group members are on board, post the banned terms in a prominent location. This could be a whiteboard or smart collaboration system. This way, each member of your meeting will be well aware of your objectives. They will also be more willing to share new ideas openly, without fear of having them rejected by the team.
3) Come Up With An Expression To Stay On Topic
By having a group of people in a condensed meeting space, you create the environment for a free flowing exchange of ideas. This is an advantage to an offsite conference room location. But having a lot of input from different sources can also be a drawback. For example, a discussion about Q4 sales figures could prompt an offhand comment about launching a survey. This could easily evolve into an extensive conversation about the types of questions to ask. A team member may even share an anecdote about a past survey experience, and why it backfired.
This may all be helpful and valuable information, but is it essential to the Q4 sales figures? If not, you may have a day of lively and intense debate. But because of this, you many never actually reach your agenda.  If your team meetings tend to veer off course, try introducing a word or expression to combat this. It could be a term like "cowboy" or "golf swing" or some other term that isn't likely to come up in your meeting conversation.
When they hear this, your participants will know that they have gone off course. This is their cue to save the conversation for a later date, no matter how imperative it seems in the moment.  Task your meeting participants with calling each other out in a tone that is helpful and not reprimanding. This way, you won't be the disciplinary figure at the front of the room. It will be a group effort. Of course, it will be helpful to have someone taking detailed notes, so these points can be revisited at a later meeting. If your team members see that their ideas are being written down, they will know you are listening.
4) Assign Seats
Switch things up by putting a place card on each participant's chair. Try to mix upper management with newer hires and less seasoned employees. This will break down some of the barriers of formality, and encourage discussion regardless of seniority or job level. These meetings may be the only time throughout the year that your junior staff has the undivided attention of top executives. So make sure they have the chance to interact. It will increase camaraderie and the exchange of different viewpoints.
5) Let Your Conference Meeting Attendees Plan the After-Event
If you have a long day of intensive meetings, chances are your team is going to want to blow off some steam afterwards. Instead of trying to make arrangements in the moment, or to send everybody off, hold a less formal after-event. Give your employees the opportunity to plan this event by providing them with a budget, along with a bit of direction. If your meeting room location has a built-in corporate event venue, you may even be able to hold this event onsite. This will make things extremely easy for your conference attendees.
If you have any questions about planning your next offsite conference, please be sure to contact us. You can also book our Downtown San Diego meeting space online, within minutes. We invite you to check rates and availability, and look forward to welcoming your team to our conference meeting facilities.