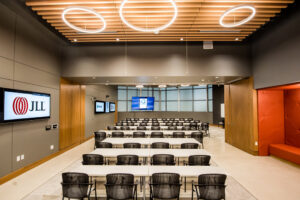 The best way to ensure a productive meeting in an offsite location is to plan ahead. By understanding the steps involved when arranging for a business conference or client presentation, you will be able to make the most of your meeting venue. Whether you are planning a leadership offsite in San Diego, or a video conference with global participants, we will work with you to make the most impact. Here we bring you the complete guide to business meeting and corporate event planning that will help you with your upcoming events.
Start With Budget
First of all, you should begin your event planning with an understanding of your budget. There are many corporate meeting venues that have steep minimums and up-charges. Some locations also require multi-day commitments and large deposits. It helps to have an understanding of your budget so you can choose a space that offers flexibility, along with packages tailored to your specific event. This will help you quickly narrow down your selection when considering San Diego Meeting Venues.
Determine Your Technology Needs
Once you have an idea of the budget for your event, you can start thinking about the technology that will be needed. If you have high profile clients in attendance, your meeting space should include smart presentation technology such as the Oblong 300 and 600 systems. If you have national or global participants calling in, your ideal location should provide advanced video conferencing solutions. Because cutting-edge technology is so critical to the success of a business meeting, it should be a determining factor when evaluating Meeting Rooms in San Diego.
Find A Venue
When you find the perfect offsite corporate meeting venue, it will be welcoming and comfortable for all involved. For this reason, you will want to select a clean and modern space that feels like an extension of your office. A smaller downtown venue will likely offer customized service, great amenities, and modular room layouts. On the contrary, many chain hotels will have rooms that may be too large for your needs and team size. In addition, chain hotels will likely have multiple events within the same day, leading to a more crowded and less personal business environment. Your San Diego Meeting Space should be welcoming and inviting for all participants, whether they are local, connecting remotely, or traveling for the occasion.
Consider the Location
Last but not least, your corporate meeting venue should be in a nice area of Downtown San Diego, close to popular restaurants, artisan coffee, and boutique hotels. This will help ensure that your guests enjoy the overall experience, beyond the meeting itself. Having unique dining options nearby means that your team can bring in catering easily, or take a short walk as a group for an enjoyable lunch or dinner. Also, look for a meeting space that is connected to an event venue, because you can then plan evening functions, awards ceremonies, networking mixers, and parties all in the same location as your daytime meetings. This will be sure to impress your clients and your leadership team.
If you are in charge of arranging offsite meetings and events for your company, you will want to find the right location, and make the best decisions for a productive and successful event. The next time you plan for a business meeting or corporate event, please feel welcome to refer to the above guide, which will help you prepare accordingly. We look forward to hearing from you about your event needs, and sharing our venue details and availability.
All IQ SmartCenter bookings are managed through