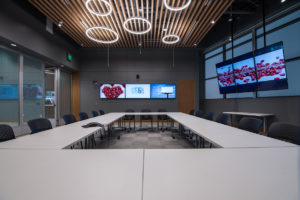 The location you select for your corporate meetings and events can make all the difference in turning your meeting into a success. When you choose the right space, there are many factors that will contribute to a great event or meeting. For example, finding a venue with accessibility, technical capabilities, and beneficial amenities will make your day run smoothly, and be welcoming for all involved. Here we are a few reasons why our event space is a perfect choice for corporate meetings.
Convenience
When we were planning our corporate meeting space, we put a lot of care and attention into the convenience of the location. We are close to the San Diego Conference Center, which is helpful to locals, visiting participants, and international guests. We are also conveniently located minutes from the airport, train station and trolley line. This helps minimize travel time. And we are in the heart of downtown, with many popular hotels and restaurants within walking distance.
Aesthetic
We purposefully designed our location to be functional, while also being sleek and stylish. The modular layouts of the boardrooms allow for countless configurations. Because you are able to rent one or both rooms, the space can be best adapted to fit your needs. There is sophisticated and modern lighting throughout, which provides a nice ambiance and atmosphere. This enables you to make the space your own, be comfortable in our environment, and conduct your meeting in the most effective manner.
Facilities
Last but not least, we created our Corporate Event Space in San Diego to have the latest in technology for meetings and presentations. Our boardrooms feature large display monitors and advanced video collaboration solutions, enabling remote participants to take an active role in the proceedings. We have multi-day rental options, which helps ensure continuity from day to day when you need space for an extended time. In addition to your meeting, if you would like to plan an event or banquet, we have a larger venue on premises that in can also be rented out, and we will be happy to make arrangements.
If you are looking for an amazing event space to impress your clients, board of directors, or internal team, please contact us for questions and availability. We look forward to hosting your next meeting, and having you enjoy our modern interiors, state-of-the-art technology, modular boardrooms, and onsite amenities. We will help turn your meeting or conference into the most productive ever.