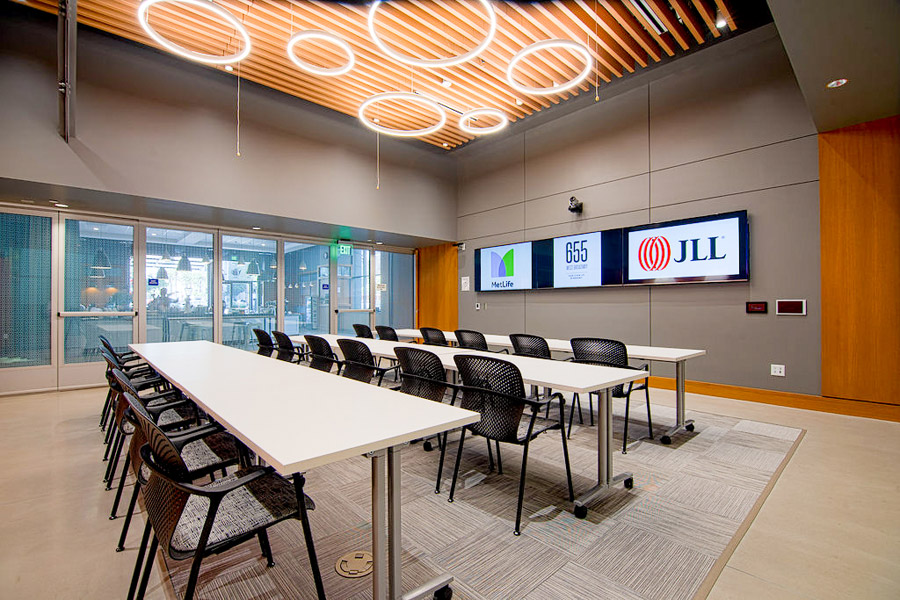 Not all meeting rooms are created equal. This is important to remember when looking for a corporate meeting space. Some meeting rooms are little more than multipurpose rooms made available for daily or hourly rental. Other meeting rooms are actually shared work environments. These put your team in the same room as of dozens of other companies, which raises the noise level. Still, other meeting rooms are designed for large conferences only. The drawback is that oversized rooms are not productive for presentations or meetings with your smaller core team.
So how do you determine which meeting room will be best for your needs? We share our thoughts with these 4 meeting room design tips, and how they have enabled us to create the perfect corporate event space.
1) Modular Layouts
If a meeting room has permanent row seating, this may work well for speeches or presentations. But when it comes time for a group discussion or collaboration, the room will not be as well suited. When creating our boardrooms, we designed them to be modular. They can be configured quickly for any number of uses. For example, let's say you have a livestream or video presentation. In this case, the conference room chairs would be arranged in rows, facing front. If there is a breakout session or team exercise, however, a table setup would be better suited. We make sure to match the room layout to your event needs. This ensures you have flexibility when making use of our corporate event space.
Another nice feature is the glass nano doors, which separate our two boardrooms. By design, these doors allow the boardrooms to be merged at any given time. This is extremely beneficial because you may have a small team meeting one day, and then a larger client presentation the following day. Having the ability to combine meeting spaces provides you with exactly the room you need. With traditional meeting rooms, this would not be an option. Your team would be split into different conference rooms, potentially far apart from one another.
2) Lighting
When designing our meeting space, we put a lot of care and attention into the lighting. In each boardroom, you will find clean and modern lighting fixtures, giving the rooms not only a sleek look but also a comfortable light to work under for extended periods. This is in contrast to the harsh halogen lights of the past, and those you'll find in traditional meeting spaces. Think about dimly lit offices and conference rooms you've been to in the past, and now imagine the opposite. It is amazing the difference that proper lighting makes. Our lighting creates a nice ambiance and an inviting atmosphere for your corporate meeting.
3) Central Presentation System
It is challenging to hold an effective corporate meeting when everyone is crowded around a laptop or small monitor. We designed our meeting space with multiple high-resolution displays in each room, which can be seen from all areas of the room. The displays can be synched to project one large image, or they can show output from different sources. For example, while an interactive graph of Q2 earnings is showing on one display, a live video feed of remote participants can be shared on the neighboring screens. This lets you cover a lot of ground during your meetings and helps attendees to stay engaged. It also keeps the focus front and center, so team members don't get distracted on their own phones and devices during a critical meeting.
Unlike other conference rooms with one basic projector, having many screens results in a powerful and compelling presentation. Whether you are impressing clients, or working with your own internal team, you will appreciate the design of our high-tech presentation system.
4) The Entire Location
It's important to feel just as welcome outside of your meeting room as you do inside. For example, our downtown San Diego building features a relaxing lobby area just outside the conference room area. This means that if you have speakers waiting for their presentation time, or attendees who want to step out for a call, they have a comfortable seating area. Additionally, our meeting room offers onsite amenities such as a gourmet coffee shop, where meeting attendees can order their favorite coffees and teas. This makes your invited guests feel well cared for, and ready to be full participants in the meeting. Finally, our corporate meeting space is in a prime Downtown San Diego location, with hotels, shops, and restaurants within close walking distance.
For all of these reasons, in addition to the care and detail put into our meeting room design, IQ Smart Center is an exceptional choice for your next corporate meeting.